It seems like June is a time for litereature, for me. I've been writing a lot, editing a TON (way more than I'd like), and I've also been reading.
Yep.
Reading for fun.
I ACTUALLY HAVE TIME TO READ FOR FUN.
(Actually, I don't. I just have been doing it anyway.)
So, I have some books that I want to read. Here's a list of the ones I can remember off the top of my head.
Story Time by Edward Bloor.
George and Kate are promised the finest education when they transfer to the Whittaker Magnet School. It boasts the highest test scores in the nation.
But at what price? Their new school's curriculum is focused on beating standardized tests; classes are held in dreary, windowless rooms; and students are force-fed noxious protein shakes to improve their test performance. Worst of all, there seems to be a demon loose in the building, one whose murderous work has only just begun.
Rebecca by Daphne DuMaurier
"Last night I dreampt I went to Manderly again."
So the second Mrs. Maxim de Winter remembered the chilling events that led her down the turning drive past ther beeches, white and naked, to the isolated gray stone manse on the windswept Cornish coast. With a husband she barely knew, the young bride arrived at this immense estate, only to be inexorably drawn into the life of the first Mrs. de Winter, the beautiful Rebecca, dead but never forgotten...her suite of rooms never touched, her clothes ready to be worn, her servant -- the sinister Mrs. Danvers -- still loyal. And as an eerie presentiment of evil tightened around her heart, the second Mrs. de Winter began her search for the real fate of Rebecca...for the secrets of Manderley.
Coraline and Other Stories by Neil Gaiman
(Mine has a cooler cover, though.)
Basically a collection of short stories (and Coraline!) by Neil Gaiman, who is amazing.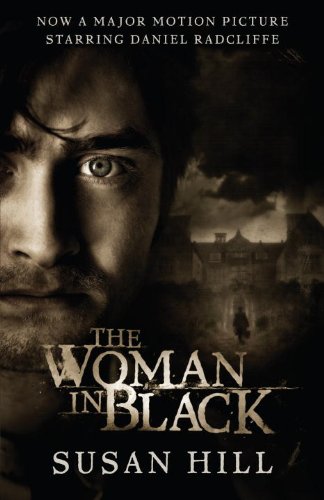 The Woman in Black by Susan Hill
(And yes, I'm ashamed to say that the only copy the library had has the same cover as this picture. Oh well. Daniel Radcliffe is awesome anyway.)
A classic ghost story: the chilling tale of a meanacing specter haunting a small English town.
Arthur Kipps is an up-and-coming London solicitor who is sent to Crythin Gifford- a faraway town in the windswept salt marshes beyond Nine Lives Causeway- to attend the funeral and settle the affairs of a client, Mrs. Alice Drablow of eel Marsh House.
Mrs. Drablow's house stands at the end of the causeway, wreathed in fog and mystery, but Kipps is unaware of the tragic secrets that lie hidden behind its sheltered windows. The routine business trip he anticipated quickly takes a horrifying turn when he finds himself huanted by a series of mysterious sounds and images- a rocking chair in a deserted nursery, the eerie sound of a pony and trap, a child's scream in the fog, and, most terrifying of all, a ghostly woman dressed all in black.
(Saw the movie. I want to see how the book is.)
The Year of the Hangman by Gary Blackwood
So, there you go. I have other books I want to read (I want to finish Wuthering Heights, I want to reread The Bell Jar, I'd like to reread the first three Eragon books and read the last one, I need to reread the Abarat books so I can read the new one... etc.), but this is a sample. :)
Yeah. So, that's basically my post for today.
Sorry for the boringness.